HOME
ESG PERFORMANCE
Stakeholders
Stakeholder and issue identification process
Stakeholders in Taisun still maintain communication with the seven major ethnic groups compared to 2017. The main purpose of communication is to maintain mutual assistance and cooperation and to understand the key issues affecting decision-making. The classification is as follows:
Investment and Lending: Shareholders and Banking Groups
Product Sales: Dealer / Customer / Consumer
Company Operations and Product Manufacturing: Employees
Product manufacturing: supplier / foundry
Plant Impact: Plant Neighbors / Public Interest or Environmental Groups
Social supervision: government unit / assessment unit / experts and scholars
Public Opinion: Media Reporters / Advertisers / Public Relations / Internet Villagers
According to the GRI standard indicators related to the Group and capable of management, we compared the issues of concern to various communities and internally screened corporate governance, product management, environmental management, and personnel management topics. 
Confirm the interest of each issue with the stakeholders of the seven major issues and obtain an effective questionnaire.
Then, we will evaluate the impact of the issue on Taisun's sustainable management with the heads of various internal business departments.
Analysis result of the major concerns in 2018
During the compilation process of this year's report, 30 issues were followed in accordance with the GRI Standards. From the perspectives of stakeholder tolerance, business sustainability, materiality, and completeness, the major topics and report contents of the GRI Standards were re-examined, and major issues were found Ten of the 30 key issues are linked to the topics in the GRI Code, and the necessary reports on " Environment, Social, and governance" and food safety management priorities are used as the basis for the preparation of this annual report.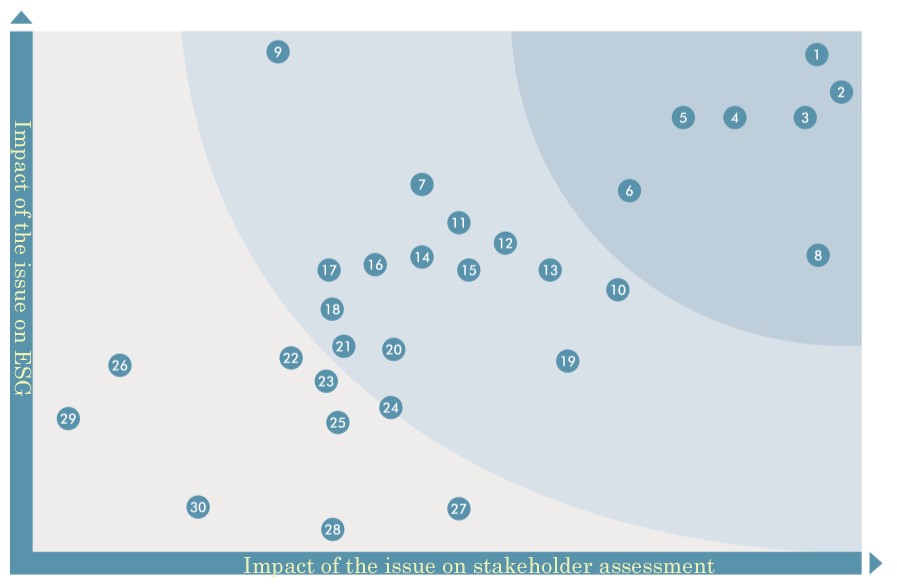 | | | |
| --- | --- | --- |
| 01Food Sanitation and Quality Management Process | 11 wastewater management | 21 Forced or compulsory labor |
| 02 compliance with food safety regulations | 12 Occupational Safety and Health | 22 Indirect economic shock |
| 03 Customer Safety and Health | 13 compliance with environmental regulations | 23 Local Community Relations |
| 04 Product Traceability and Tracking Management | 14 Industrial relations | 24 non-discrimination |
| 05 Product Labeling and Marketing Principles | 15Waste management | 25 Energy Consumption |
| 06 Audit of suppliers and foundries | 16 education and training | 26 Procurement Management |
| 07 Labor Relationship | 17 Employee Diversity and Equality | 27 materials that can be recycled or recycled |
| 08 Purchasing with international certification standards | 18 Air emissions | 28 customer privacy |
| 09 Operating and Financial Performance | 19 Voluntary establishment of food safety laboratory management | 29 market position |
| 10 plant specifications of food factory | 20 Socio-economic regulations compliance | 30 anti-corruption |
Main concerns and means of communication
Stakeholders
Main concerns issue
Means of communication
and frequency
Distributor /
Customer /
Consumer
(Commodity
Sales
Relationship)
1. Comply with food safety regulations
2. Food hygiene and quality management processes
3. Customer safety and health
4. Product labeling and marketing principles
5. Purchasing with international certification standards
1. Business visits to various channel vendors
2. Irregular consumer market surveys
3.Daily customer service line to answer and process
4. Online announcement products and company information
5. Product identification information disclosure
Shareholder
(investment
relationship)
1. Process of food hygiene and quality management
2. Comply with food safety regulations
3. Customer safety and health
4. Product labeling and marketing principles
5. Product traceability and tracking management
1. Annual general meeting of shareholders
2. Announcement on the day of major news
3.Daily person answering shareholder calls
Supply / foundry
business
(commodity
manufacturing relationship)
1. Product traceability and tracking management
2. Comply with food safety regulations
3. Process of food hygiene and quality management
4. Audit of suppliers and foundries
5. Purchasing with international certification standards
1. Regularly visit appraisal suppliers.
2. Each item of raw materials is inspected item by item.
3. Unscheduled meetings to discuss product quality.
Employees (labor relations)
1. Comply with food safety regulations
2. Occupational safety and health
3. Labor relationship
4. Customer safety and health
5. Labor relations
1. Regular communication: weekly department meeting / month supervisor meeting /
month operation meeting
2. Establish an employee complaint mailbox
3. Management of irregular events / satisfaction survey

Plant Neighborhood /
NGO (Community
Relations)
1. Customer safety and health
2. Comply with food safety regulations
3. Process of food hygiene and quality management
4. Product traceability and tracking management
5. Indirect economic shock
1. Daily dedicated line to answer community welfare needs
2. Irregular sponsorship / improvement of public welfare needs
3. Volunteer volunteers for charity
4. Participate in non-profit activities from time to time
5. Irregular reception visits and dialogues
Government / Expert
(Supervisory Relationship)
1. Comply with food safety regulations
2. Plant specifications of food factory
3. Process of food hygiene and quality management
4. Purchasing with international certification standards
5. Audit of suppliers and foundries
1. Cooperate with government agencies to check irregularly
2. Participate in government policy or development briefings
from time to time
Media / Advertising /
Internet (Social-
Psychological
Relationship)
1. Customer safety and health
2. Food hygiene and quality management processes
3. Purchasing with international certification standards
4. Product traceability and tracking management
5. Comply with food safety regulations
1. Release media news materials from time to time
2. Official website's public response on the day of major news
3. Occasional media briefings / meals
4.FB fan group message interaction