HOME
ESG Performance
FOOD SAFETY
As the public's awareness of food safety and health management is getting higher and higher, Taisun is becoming more cautious about the processes and projects of managing products, from raw material suppliers to post-sale tracking, continuous learning, and providing safe and healthy food , Adhere to the most basic moral conscience and food safety beliefs of practitioners.  
I.Selection of suppliers and raw materials
Taisun require suppliers to comply with regulations and national food safety-related laws and regulations, implement labor-based laws to prohibit the employment of child labor, pay attention to whether the supplier complies with health regulations, and conduct regular employee health inspections. Disposal strengthened confirmation, reminded suppliers to pay attention to social responsibility, and meet social ethics, legal, environmental and public requirements standards. Adopt a pragmatic management approach to maintain suppliers and Taisun towards a sustainable cooperative relationship.
The supplier quality management evaluation form includes four major evaluation policies: "operation management", "incoming control", "process control", and "finished product control":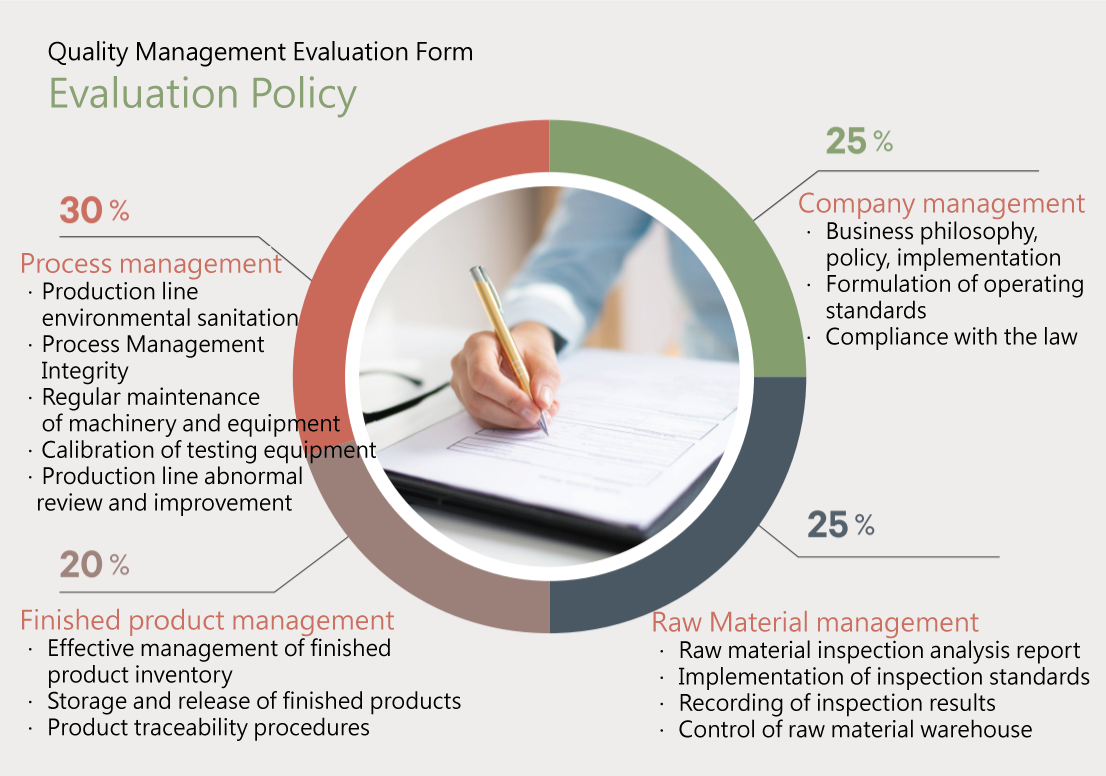 After the site visit to the factory, various scores will be given according to the supplier evaluation items, and the evaluation results will be graded and managed according to the evaluation scores from A to E. The suppliers will be evaluated according to the A and B grades. Excellent supplier, measure quality, price, delivery time, service, etc. Send inquiry list, give priority to ordering opportunities. Taisun takes domestic suppliers as the priority, and conducts risk assessment and management to improve the competitiveness of the supply chain. If the supplier is rated below C, the coaching strategy is the main strategy. If the coaching still fails to meet the regulatory standards Replace it.
II.Outsourcing factory management
In order to meet product characteristics and requirements, for example, considering the characteristics of water sources and special plant technology, some of Taisun 's products are commissioned to be manufactured by foundries. In order to produce products that meet specifications and have stable quality, Taisun has taken a cautious attitude when selecting foundries and prioritized factory environment, business philosophy, financial and process capabilities, quality management system status, and food safety related certifications. At the same time of production, quality assurance personnel are not regularly arranged to carry out quality control sampling at the foundry. In addition to the foundry inspection, post-production products are sampled and sent back to Taisun for inspection. Through double inspection, prevent defective products from flowing out of the market and affect consumer safety. 
In 2018, there were 14 cooperating foundries, and four new foundries were added in 2018. The entrusted foundries have achieved 100% food safety certification. We continue to promote the foundries to obtain food safety quality certification. One of the foundries was in 2018. During the year, SQF certification was obtained, and the number of FSSC22000 certifications has continued to increase. The 14 foundries that have been commissioned to obtain international certification are as follows:
| 國際認證占比 | HACCP | ISO22000 | FSSC22000 | SQF |
| --- | --- | --- | --- | --- |
| 2014 | 87.5% | 62.5% | 25.0% | 0.0% |
| 2015 | 100.0% | 85.7% | 28.6% | 0.0% |
| 2016 | 100.0% | 87.5% | 25.0% | 0.0% |
| 2017 | 100.0% | 90.0% | 30.0% | 0.0% |
| 2018 | 100.0% | 92.9% | 50.0% | 7.1% |
| 2019 | 100.0% | 92.0% | 38.5% | 7.7% |
| 2020 | 100.0% | 100.0% | 27.0% | 0.0% |
I.Legal compliance
Government regulations are continuously revised with the current situation. Taisun adheres to the basic regulations as the minimum safety standard for production, and has special personnel to check the latest regulations at any time. If it is found that the competent authority is about to release the latest version of the food regulations or draft, it will notify relevant units to prepare for the response.
The company was issued a total of 1 ticket cases by the government in 2018. The main reason is that the use of advertising words for 2.6 liters of oil "Taisun Canola Oil" sold on the Internet may cause misunderstanding. Therefore, the Changhua County Health Bureau opened A fine of 40,000 yuan was issued. 
After receiving the notice from the Health Bureau, Taisun immediately removed the inappropriate text on the advertisement and accepted the government's correction. In addition to this case, other major laws and regulations including food safety and health management law, management methods for food and related product retrospective tracking systems, food good hygiene standards, food hygiene standards, etc. Taisun did not have any fines or reports.
II.Operate in accordance with international standards to ensure product quality management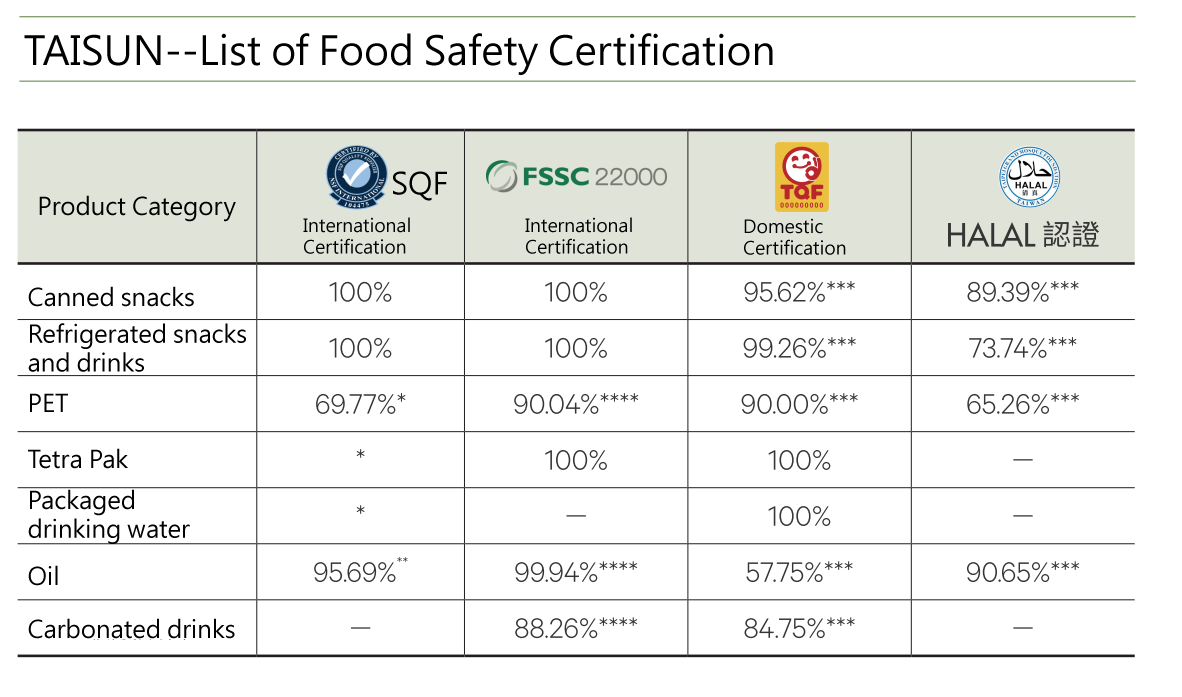 *1. Some PET tea beverages, packaging water plants and Tetra Pak beverages are commissioned to be produced by foundries. The foundries have not yet obtained SQF certification.
*2. Original imported cooking oil is not produced at Taisun Plant.
*3. Due to business considerations, special specifications products have not been applied for.
*4. Some PET tea drinks & edible oil products and carbonated beverages have been commissioned to be produced by foundries. The foundries have not yet obtained FSSC22000 certification.
*5. FSSC22000 and SQF are system certifications, and the production lines that pass the certification are in compliance with the specifications of the certification.
III.Setting up a laboratory
Taisun has 3 laboratories: food laboratory, microbiological laboratory and oil laboratory. The existing laboratory equipment and equipment are in accordance with the Ministry of Health and Welfare's "Food Factory Building and Equipment Design Standards". In 2018, 80 outsourced corrections were performed, and some equipment was internally corrected by qualified training personnel. In 2018, 190 internal corrections were made. 
In order to strengthen the confirmation of product quality, in 2018, an additional "PET pressure leak detection tester", "low temperature incubator" (for instrument calibration), and "soda water CO2 gas volume measurement" were purchased, and the automatic ratio was replaced. One color meter. In addition, the long-awaited design of the new grease laboratory construction project has been launched in the fourth quarter of 2018 and completed in 2019. At the same time, preparations for subsequent inspection projects to obtain TAF certification to strengthen the credibility of inspection reports.
IV.Third-party verification
In order to ensure the safety and quality of each can of products in the hands of consumers, we sample products and raw materials and send them to a third notarization unit for inspection each year, such as: local health bureau, SGS inspection and food industry development research institute, etc. A total of 403 cases were filed in 2018. In source management, the water source quality inspection was sent 12 times, and the inspection results were all satisfactory. In addition, in order to reduce product risks, Taisun strictly controls the safety of oil products and tea. A total of 121 oil products have been sent for inspection, 87 times for tea, and the inspection pass rate is 100%. Other types of products are no exception. Spot checks were conducted 45 times for beverages, 44 times for PET tea beverages, 41 times for canned foods, and 12 times for packaged drinking water. The inspection results were all satisfactory. 
In addition to spot-checking the products and submitting them for external verification, Taisun Food Factory and Oil Factory received a compulsory audit by the government and government-sponsored units in 2018, and the audit results were in compliance with the requirements. In order to continuously improve and continuously obtain food safety and quality certification, Taisun accepted a total of 8 food safety and quality audits by a third impartial unit in 2018, all of which passed the quality assurance system audit and approval.
The food safety problem significantly affects the consumers and food industry. In addition to observing the regulations of the government, we set up a management mechanism via the tracking and tracing system and enhance the ability of self-management from the material to the consumer end. When a food related health and safety incident occurs, we are capable of controlling the source of the material and the movement of the product to minimize the loss and protect the safety of the consumers and the goodwill of the company.
Taisun has established a complete production tracking and tracing system, which can be traced from either end of raw materials, manufacturing date or shipping data, and can be linked with complete production resume data. In order to ensure the effectiveness of the tracking and tracing system, each production line is executed every year Walkthrough test. In 2018, a total of 13 simulated recovery tests were performed, covering all product types (including externally commissioned foundry products), and the recovery rate reached 100%. Two of them were traced from raw materials to finished products to ensure that the product production history can be accurately traced.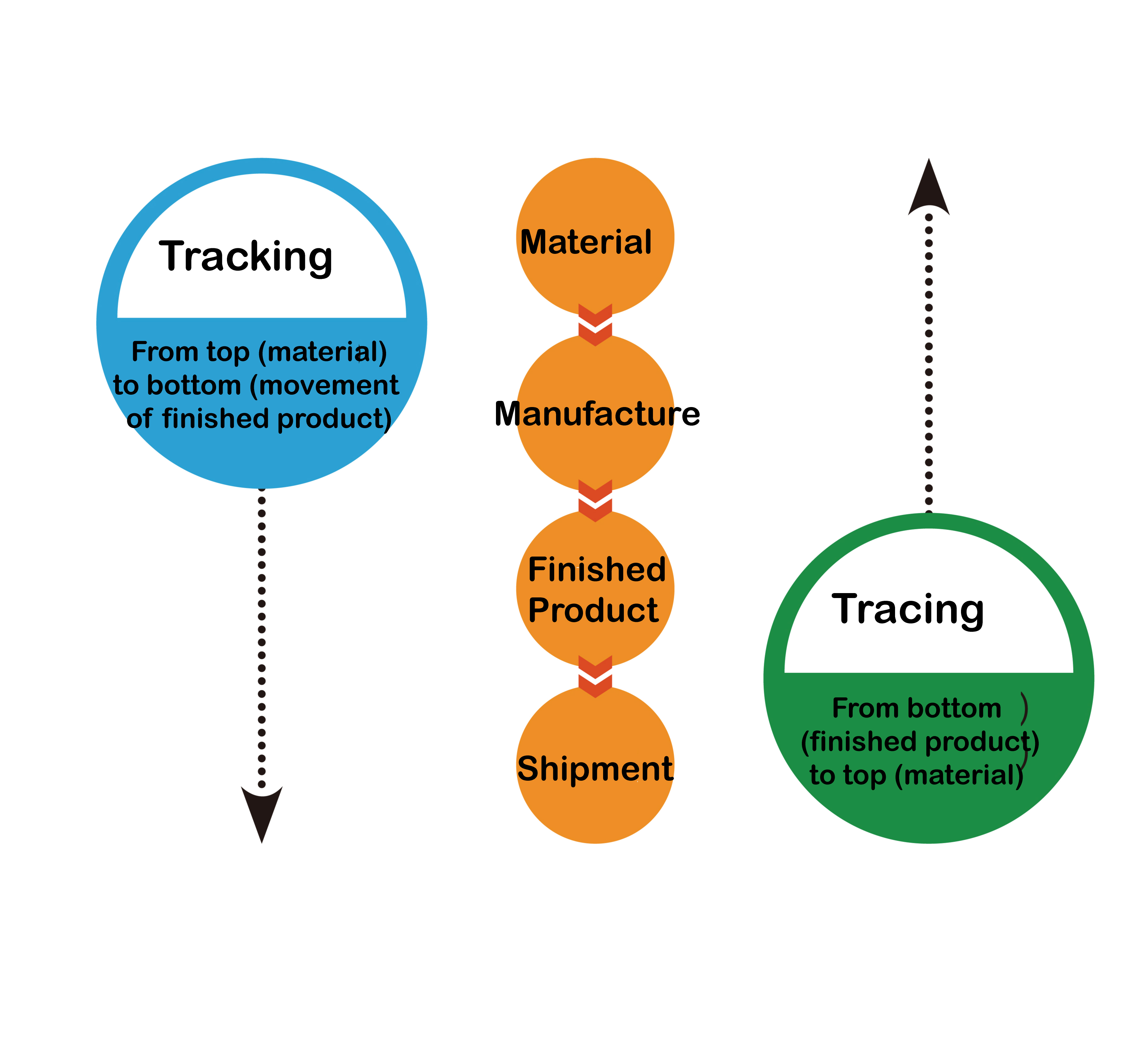 In order to ensure the traceability of product flows and raw material sources, the government regulates oil product manufacturers, tea beverage manufacturers and soybean, oil, tea, and sugar importers. Each batch of products must be uploaded to a non-tracking electronic platform. We adhere to the government It is required to upload a total of 153 items for manufacturing in 2018, and enter a total of 21 items, all of which are 100% uploaded.
II.Tracking & tracing process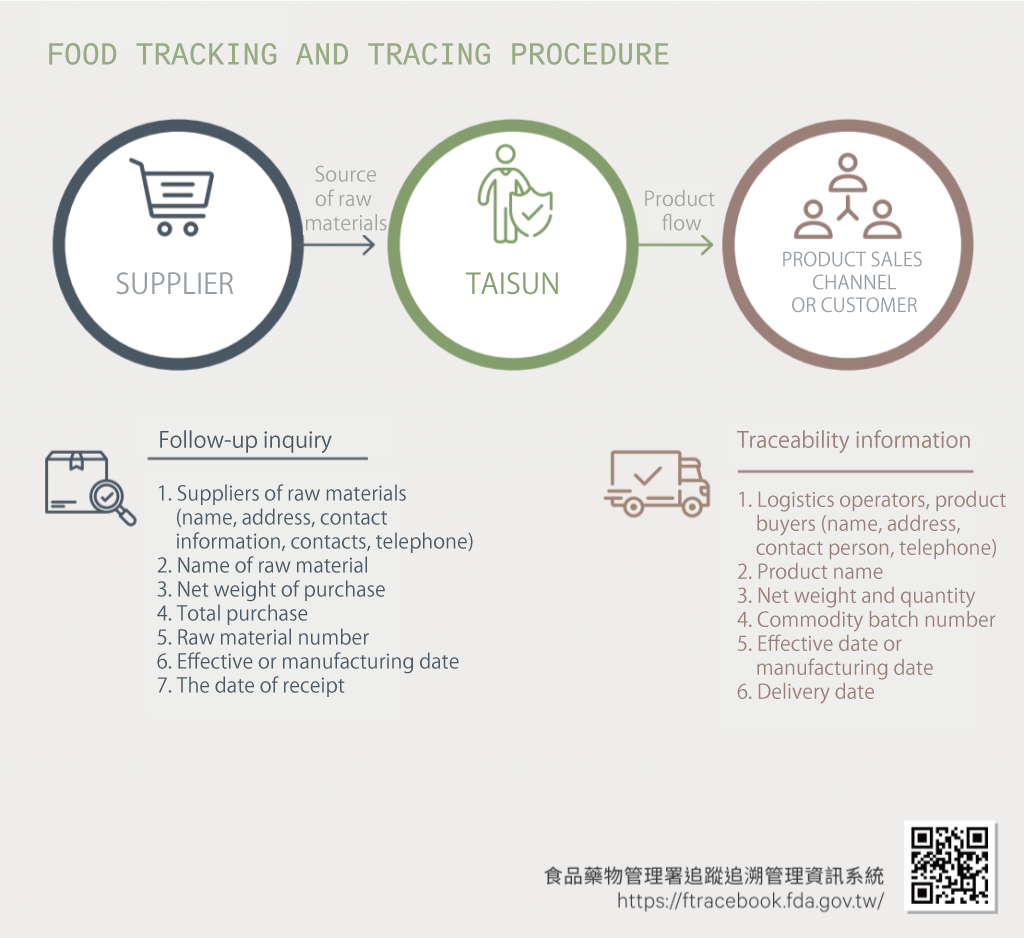 III.After-sale complaint reporting channels
We collect customer's feedbacks about use of our products from the mailbox on our official website, Facebook, and 0800 hotline. The customer service center filters the feedback every day, so that we can analyze the experience of the consumers and understand how they feel in use of the products and what we shall pay more attention to in the management.
The satisfaction of the consumers in terms of the customer complaint service is classified into phone answering attitude, handling speed, and satisfaction with the handling result. We hope that our products can meet the requirements of the consumers better than ever via continuous suggestions and improvement. We handle the feedbacks of the consumers in four grades – suggestions with good intention, customer complaint, damage incident, and emergency event – and enter the feedbacks in the Consumer Feedback System accordingly. We make factory analysis and reply to the feedbacks one by one.
Consumer service hotline: 0800-079-080
Consumer service mailbox:taisun1@taisun.com.tw
Facebook message: https://www.facebook.com/TaisunGP/