HOME
ESG PERFORMANCE
Stakeholders
Stakeholder and issue identification process
Through a thorough internal investigation, the stakeholders of each department were found. There are 7 groups including:

Shareholders (investment relations)
Distributors / Customers / Consumers (commodity trade relations)
Employees (labor-management relations)
Suppliers / Vendor (commodity manufacture relations)
Plant neighbors / Charity or environmental groups (community relations)
Government units / Evaluation units / Experts and scholars (inspection relations)
Media / Advertisers / Public relations / Online communities (social psychology relations)

We compared the main concerns of the social groups and referred to the GRI G4 Guidelines that have the management ability and are related to the company to identify the issues of corporate governance, product management, environmental protection management, and personnel management.
We confirmed the level of concerns on different issues together with the stakeholders of all the 7 groups and received valid questionnaires.
Then the manager of each department above the level of Section were asked to assess the issues to ascertain the level of their impact on the sustainability of Taisun.
Analysis result of the major concerns in 2016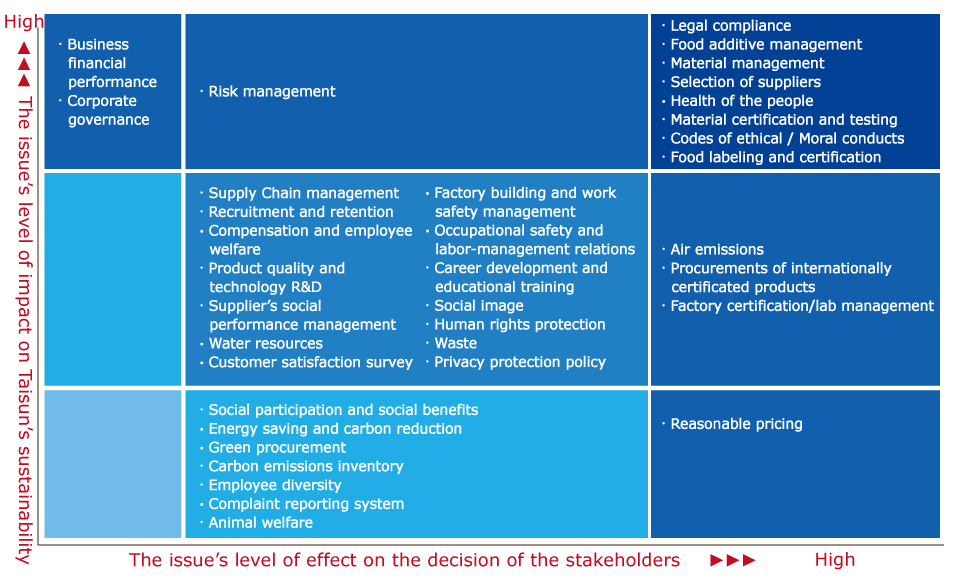 Main concerns and means of communication
Main concerns
Stakeholders
Means of communication and frequency
Health of the people,
food labeling and certification,
food additive management,
legal compliance,
raw material management,
lab management, factory certification,
supplier management
Distributors / Customers / Consumers
(commodity trade relations)
•Regular visits to distributors
•Irregular customer surveys
•Everyday customer complaint service
•Release of product and corporate information online
• Disclosure of product label information
Food labeling and certification,
legal compliance,
risk management,
food additive management,
privacy protection policy,
corporate governance,
codes of ethical / moral conduct
Shareholders
(investment relations)
•Yearly shareholders' meeting
•Release and announcement on the day of any major news
•Everyday hotline for shareholders
Health of the people,
legal compliance,
food labeling and certification,
animal welfare,
codes of ethical / moral conduct,
factory certification,
procurement of internationally certificated products,
materials management
Suppliers / Vendor
(commodity manufacture relations)
•Regular distributor visits and evaluations
•Incoming material inspection by item
•Irregular meetings on product quality
Legal compliance,
health of the people,
compensation and employee welfare,
recruitment and retention,
occupational safety and health,
labor-management relations,
career development and educational training,
codes of ethical/moral conduct
Employees
(Labor-management relations)
•Weekly department meetings
•Irregular questionnaire surveys
•Presentations on major events
Codes of ethical / moral conduct,
legal compliance, materials management,
waste management,
air emissions,
product quality/technology R&D,
social image
Plant neighbors / Charity or
environmental groups
(community relations)
•Everyday hotline for community charity
•Irregular sponsorship and improvement of charity practice
•Irregular volunteer work
•Irregular participation in non-profit events
Corporate governance,
business financial performance,
legal compliance,
health of the people, labor-management relations,
occupational safety,
supplier management
Government units / Evaluation /
Experts and scholars
(supervision relations)
•Cooperation with the government in irregular inspections
•Participation in irregular government policy or development presentations
Codes of ethical / Moral conduct,
legal compliance,
health of the people,
product quality / Technology R&D,
food additive management,
social image
Media / advertisement and
public relations / Online communities
(social psychology relations)
•Irregular press releases
•Public announcement and release on the official website on the day of any major news
•Irregular press conferences / Lunch meetings